So I've had a pretty busy time on the bike the last month. ORAMM at the end of July, a ride in the untamed mountains of PA, and Fool's Gold 50miler just this past weekend. For those who may care (chirp chirp chirp) here are my race ride reports.

ORAMM: The week before this race I decided I hadn't trained enough so I did a six hour ride that consisted of about 90% single track. Not a very good idea since I ended up damaging the heel of my hand pretty bad and my legs didn't really appreciate it much either. I had already signed up for SS and since no 29" fork existed in my garage at the time I just had to suck it up and ride it rigid anyway. It hurt bad. I got most of the way down Kitsuma the first time without it slowing me down much. Then my hand got to rest for quite awhile with the hike up star gap and long fire road climbs on Jarrett Creek Rd and Curtis Creek. I only had to walk on Curtis for two short stretches to rest the legs and felt great climbing for the most part. At the top of Heartbreak Ridge I took a short rest to get ready for a long rough downhill and put some space between me and the group right in front of me. Turns out I couldn't catch any of those folks limping on a sore paw and had to let more than the usual number of riders get by me when I heard them banging down behind. I still cleaned all of the downhill switchbacks except for one particularly nasty one I crashed on two years ago. I guess it is still in my head. I had enough energy left to ride strong on the fireroad back to Kitsuma and even rode a few of the uphill switchbacks to get me to that last downhill. This was really slow for me but I still managed to pass some dudes walking their FS bikes down the steep drops. I've never wanted a suspension fork so bad. Still I finished in 8:15 which was good for 22nd place in the SS group. Not too shabby but I think I can do better in the future.

Quebec Run: We had a funeral to attend in PA and even though I've made several trips up there to see in- laws I've never taken the bike. This time I insisted on it. After studying ancient scrolls and some secret encrypted maps I found the Quebec Run Wild Area a little way outside of Uniontown. Turns out they put more signs on the trails than they do the roads up there. This was a nice back country area with surprisingly well maintained trails. Lots of ferns covered the ground outside the singletrack and there were just enough roots and rocks to keep things interesting without slowing me way down. I did a big loop around the area along with an out and back of one of the bisecting trails for a nice 3hr ride. Plenty more trail out there to explore too. Just before heading to PA my new (gasp) suspension fork for my SS came in the mail and I installed it just in the knick of time for our trip. I didn't even notice my sore hand which is still not recovered much even today. I really like suspension for the downhills but not too sold on how it screws with my climbing. We'll see how it shakes out after some adjusting.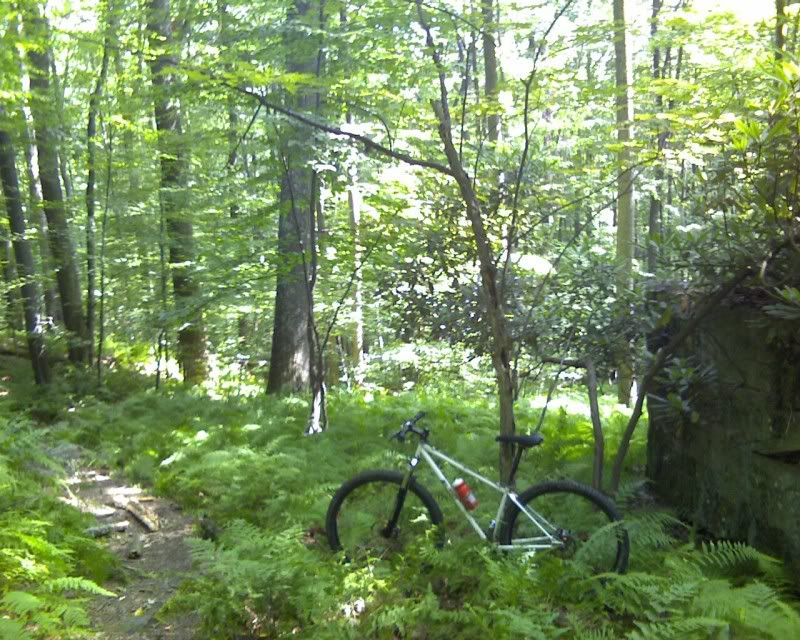 Fool's Gold 50mile: This is the third year in a row racing the SS class for this race. The inaugaral year for the race Pirate, Hollywood, Dave, and I ventured to Dahlonega, GA to try our hand at it. I really like the trails here and will continue to race/ride this area when I get the chance. I started out with a stomach ache that had nothing to do with eating a honey bun and chocolate milk before the race I'm sure. I still held my own on the initial climb and didn't need to walk any like I have the two years prior. When the rolling hills started I really focused on maintaining speed down and spinning up the next climb as far and fast as I could. The fast downhill fire road was a totally different experience with a suspension fork on. Stutter bumps? Where? Grabbing the brakes before hitting that big water bar? Unnecessary. I was actually passing people on geared bikes which is rare for me in this situation. I skipped the first aid station thinking I would eat something at the second. Then they had no food at the second aid station. Thankfully I had brought some of my own. I have trust issues and they paid off this time. I think my climbing for this race was slow but I stayed pretty steady and only walked some of the steeper stuff or where there was no space in front to keep momentum up for SS climbing. Everything in this race is totally rideable but when you're riding 50miles it pays to conserve energy in places where riding is not much faster than walking. I felt like I finished the race pretty strong but within the last 10miles two SS'er with rigid forks passed me. I couldn't make up for it on the downhills and wondered about which is better. No doubt they were just stronger climbers than me but you spend so much more time climbing than descending it just seems like you want the most efficient thing for the climbs. Suspension sure is fun though. I got 7th place with my time of 5:10. I thought I would do worse than that with my slow climbing but I guess a steady pace and blazing down the descents can make a difference.